March is Women's History Month and as a company that celebrates women, we wanted to highlight some of the most influential women in the history of data visualization! So let us introduce you to some of these incredible women who have shaped the industry we all love and are committed to pushing forward.
Florence Nightingale:
Florence Nightingale is considered to be one of the first pioneers of data visualization. While she's best known for her advancements in nursing, she also is credited with being one of the most influential early figures to not just use data, but to show it in a way that could impact and move her readers – who were ordinary people and even Queen Victoria herself. Nightingale was known for her love of statistics. And during her time working in a military hospital, she helped to prove that hygiene and cleanliness of the hospitals were directly linked to soldier deaths in combat. She used her experience in nursing and love of statistics to take data and information that were collected and turn it into charts and graphs like the one below. However, because she was a woman in the 1800s, she isn't adequately credited for her advances of data visualizations along with the "founding fathers" we are more familiar with.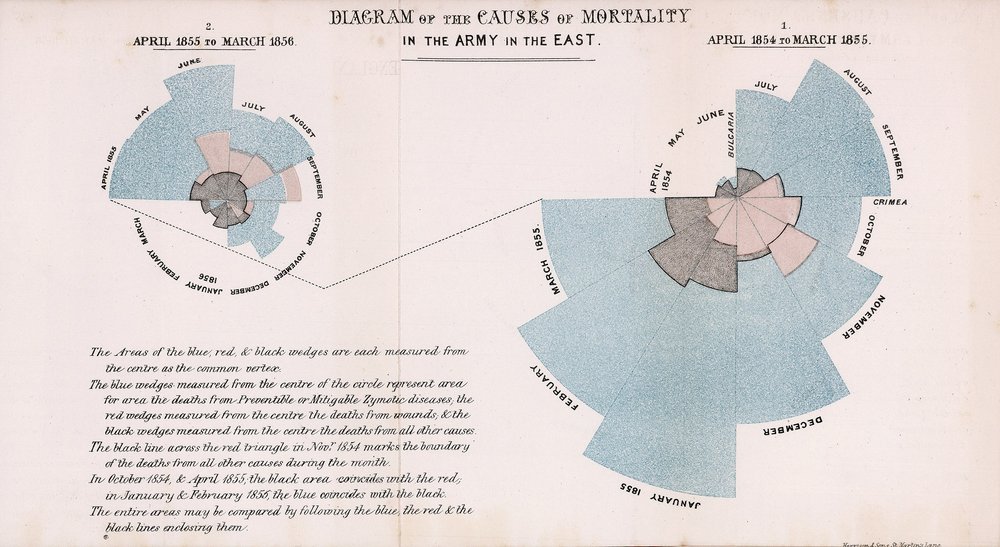 Emma Willard:
Emma Willard is probably best known for her visually-stunning maps, and being America's first female map maker. Her Temple of Time visualization is one that she hand shaded and details the timeline of world history. She used a flow diagram to showcase the rise and fall of empires throughout history. Willard described her reasoning for this visualization in this way, "By putting the course of time into perspective, the disconnected parts of a vast subject are united into one, and comprehended at a glance;–the poetic idea of "the vista of departed years" is made an object of sight; and when the eye is the medium, the picture will, by frequent inspection, be formed within, and forever remain, wrought into the living texture of the mind.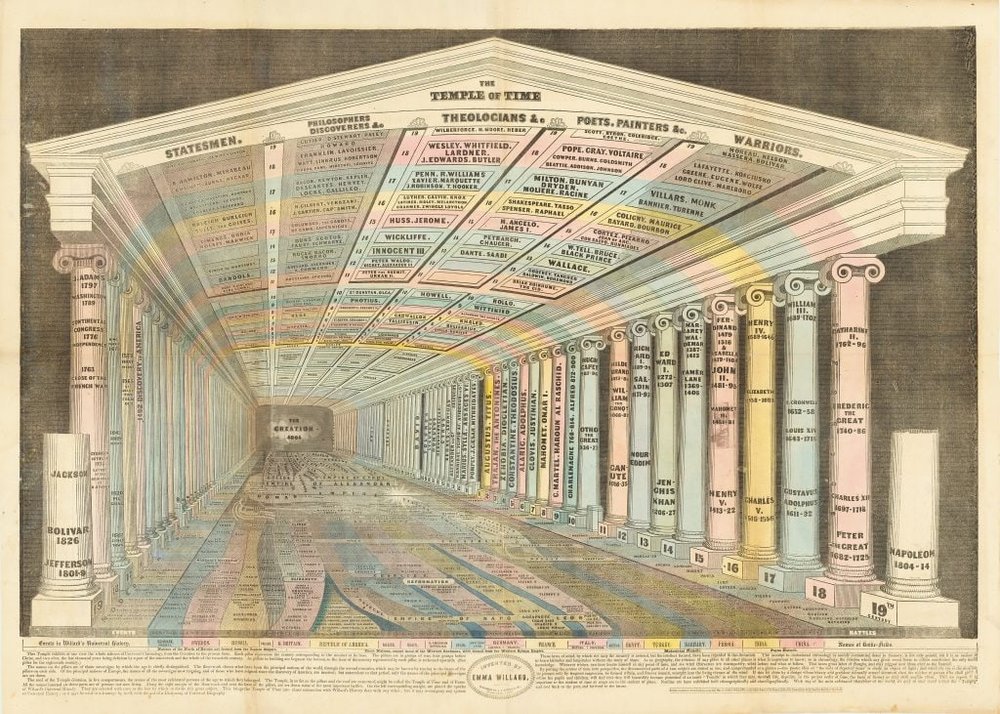 Florence Kelley:
Florence Kelley committed her life to social reform from an early age. Born into a home with parents who were abolitionists, Kelley was a scholar and studied in the US and abroad. She is best known for her work with Hull House in Chicago where she focused on the impoverished neighborhoods of immigrants who had come to the United States to start a new life. Kelley began the Hull-House Maps and Papers Project in the late 1800s. As well as the Hull House project, she also worked on the report of the smallpox epidemic in Chicago in 1893 and helped enforce the provisions of the Illinois Factory Inspection Law (she was the first female factory inspector in America). The Chicago slums maps were the most popular among her work and consisted of two types of maps based on nationality and weekly household income. Kelley sought to show the information she collected with her small team and help others understand the complexities of socioeconomic statuses in four Chicago neighborhoods.

While much of the visualization world as we know it comes from these leading ladies listed above, we want to give a nod to the current women who are making visualization history as well.
Lea Pica:
Lea Pica is known worldwide as a data presentation guru, or as she describes herself, "Let me be your Slide Sherpa. Your Viz Vizier. Your guide on the exciting road to presentation enlightenment." Pica used her experience in musical theatre to bring a "performance" aspect to her professional career. But try as she might, she realized that even all of the bells and whistles she thought would help her successfuly grab attention, were falling flat. She became a self-taught visualization expert and now, she's among the 'leading ladies' of the data visualization and presentation world!
Amanda Cox:
Amanda Cox is an America journalist and data visualization that is well-known for her work as the data designer at the New York Times where she rose to serve as editor of The Upshot section. She worked as a graphics editor from 2005 through 2016 at the NYT. And her desk created the infamous election monitoring needle we see from the NYT every election cycle since 2016.
Cox is known as the "Michael Phelps of infographics," a title we are quite fond of! In her opening statement of her keynote at the OpenVis Conference in 2013 she popularly said that ultimately design isn't about typography or whitespace, but rather empathy – it's about creating visualizations that readers can both understand and connect to emotionally. Since Cox's tenure, the Times has "led the field of innovative information graphics" and "raised the bar of journalistic interactive visualization."
She has also served as the judge for data visualization competitions, and several of her data visualizations were selected for The Best American Infographics 2014 and The Best American Infographics 2016. It's easy to see why we would include her in this list of influential women who are cemented into the history of women in data visualization.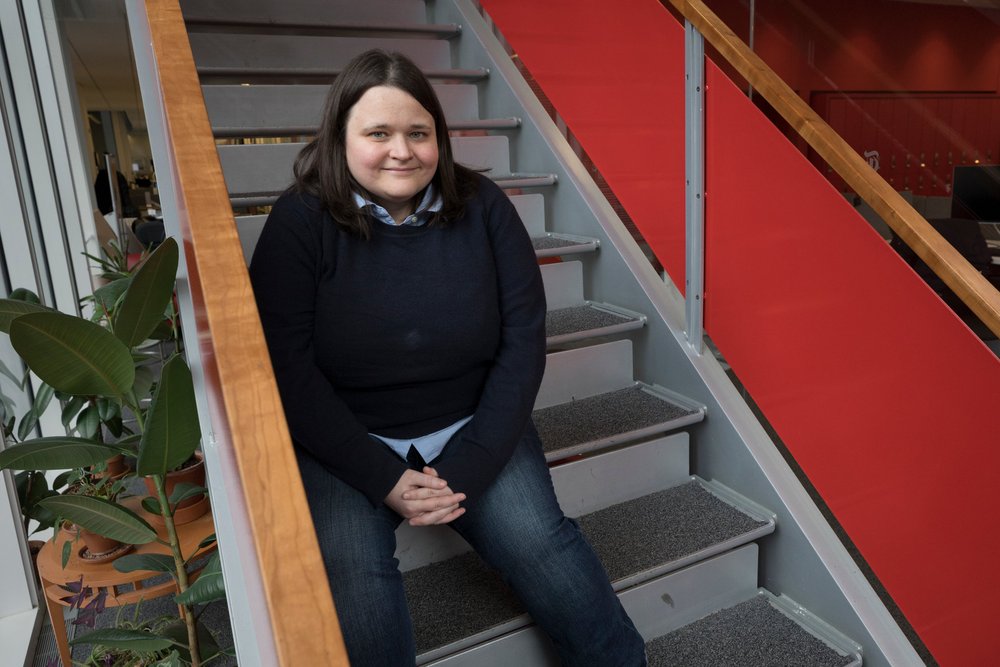 Giorgia Lupi:
Girogia Lupi is an Italian information designer who needs no introduction. She is a rockstar in the visualization community and has amassed tons of notoriety and awards for her work. Lupi's work synthesizes data and storytelling in innovative ways to create unique and singular brand expressions. In her practice, she designs engaging data-driven visual narratives across print, digital and environmental media that create new insight and appreciation of people, ideas, and organizations.
Her vibrant and inspiring design work empowers leading global organizations to achieve their mission through data-driven storytelling, and reflects her belief that "data has the capacity to make us all more human – advancing our intelligence, engagement, and delight." Her work is part of the permanent collection of the Museum of Modern Art and of the permanent collection of the Cooper Hewitt Smithsonian Design Museum.